WoT   /  Articles   /  How to get a t28 concept | Ez-Play
How to get the t28 concept for personal combat missions
To receive the T28 Concept premium, you must complete all 5 chains of tasks without exception, or any 4 of them with honors.
How to get the T28 Heavy Tank Concept for personal combat missions
Implementation of LBZ T28 HTC - contains 14 main and 1 final combat missions. Each task includes the main conditions as well as additional ones, the fulfillment of which significantly increases the reward for the completed task.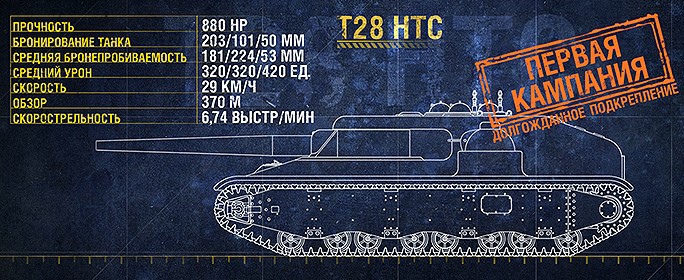 Combat characteristics of the T28 Concept
The T28 Concept can be used safely both to guard areas and to break through enemy defenses. Good armor and excellent weapons make it possible to suppress superior enemy forces in tight spaces. Large horizontal guidance angles make it possible to effectively use cover and guide the target in the sight without turning the body. In Tier VII battles, the T28 Concept, if used correctly, is capable of successfully pushing through enemy defenses, as well as working as a movable shield in the interests of allies. Due to its large size, SPGs pose the key danger to it, so it is important to first think over your own path, observe the minimap and interact with your allies. It is worth, among other things, beware of rivals armed with land mines, for example, the KV-2 and the SU-152 - the explosions of their colossal land mines are ready to destroy or severely damage the T28 Concept, despite its strong booking. In addition to Togo, it is important to keep in mind the vulnerable spots in the form of turrets on the sides of the gun. In battles against Tier VIII and Tier IX tanks, it is necessary to act carefully, since the self-propelled gun's defense no longer plays such a role. For such battles, the strategy of ambush and assistance of allies from the 2nd line is more appropriate.
The tasks are not difficult and you can go through them in wot 2021 in 5 or 6 days freely
Service on the site
Our team is ready to help you get the T28 Concept. By following our recommendations, you can avoid being banned , and get a tank, as well as a large number of fights for a great result, to place an order, click here - push
Rewards for completing personal combat missions t28 concept
For completing this operation, you can get about 7 million silver, which would be a good gift for every tanker, wouldn't it? In addition to silver, you can get a lot of different blueprints, ammo sets and other things.
Advantages of Fri T28
powerful weapon;
decent frontal armor
excellent horizontal guidance;
Disadvantages Fri T28
the presence of cones with low armor on the turret (turrets on the sides of the gun);
huge size;
big reload;
low elevation angles;
low speed
And also we have prepared for you similar guides for each tank for personal combat missions
1 Ob.279(P)
2 Chimera
3 Excalibur
4 Stug 4
5 Ob.260
6 T-55A

And that's all! Share with your friends if you liked this article!
Comments for the site Cackle