WoT   /  Guides   /  How to get through LT 2 on T55a | Ez-Play
How to pass LT 2 to T55A 2022
Complete instructions for passing LT2 on T-55a in 2022
LT-2. Reconnaissance on the T-55A
Main condition: 1.Discover -Discover 6 enemy vehicles 2.Survive - Do not be destroyed by the end of the battle Honors: 1. to win -Kill the enemy / capture or defend the base
What and how to perform LT2 on the T-55A
For this task, a wheeled vehicle is most suitable starting from level 8, since it will be very difficult to hit you with an active game. The tactics for wheeled vehicles are very simple, at the very beginning of the battle you go to a standard position and try to enlighten 6 tanks, and after a successful spotting of 6 tanks, you can play where the main concentration of allies is and play as carefully as possible. But an equally suitable technique, this is a LT with a good disguise, not necessarily a chariot. When playing on LT with a good disguise, it is worth using this advantage and playing from the bushes. If you do not know good bushes for LT, you can see our article.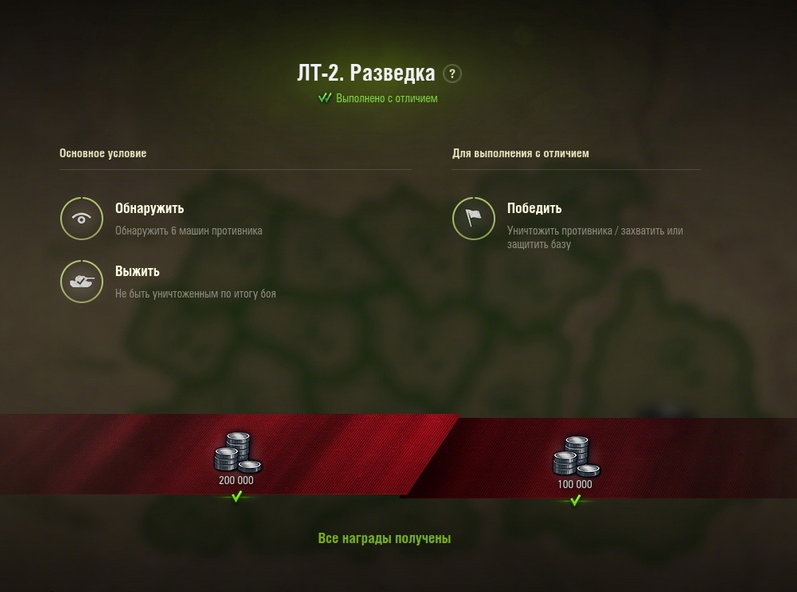 Service on the site
If you suddenly cannot complete personal combat missions 1.0, or if you have some other problem, you can always contact us for help. We are always happy to help you - push
Reward for completing LT2 on T-55a
For the main condition you receive 200,000 credits, and if you fulfill the additional condition, then you will be given another 100,000 credits.
And that's all! Share with your friends if you liked this analysis!
Comments for the site Cackle