WoT   /  Articles   /  Caliban | Ez-Play
New British premium tank Caliban
Caliban is a new tier 8 premium tank with characteristics from tier 10, an extremely strong premium tank that can become the most powerful at tier 8
Caliban as a tank?
Caliban - This is an unusual and interesting vehicle, the tank positions itself as FUGE, a weapon: a magazine for 2 shells with a normal reload. The same mechanics as in the Italian ST branch. The tank has a limited turret turning radius: 85 ° in one direction and 85 ° in the other direction.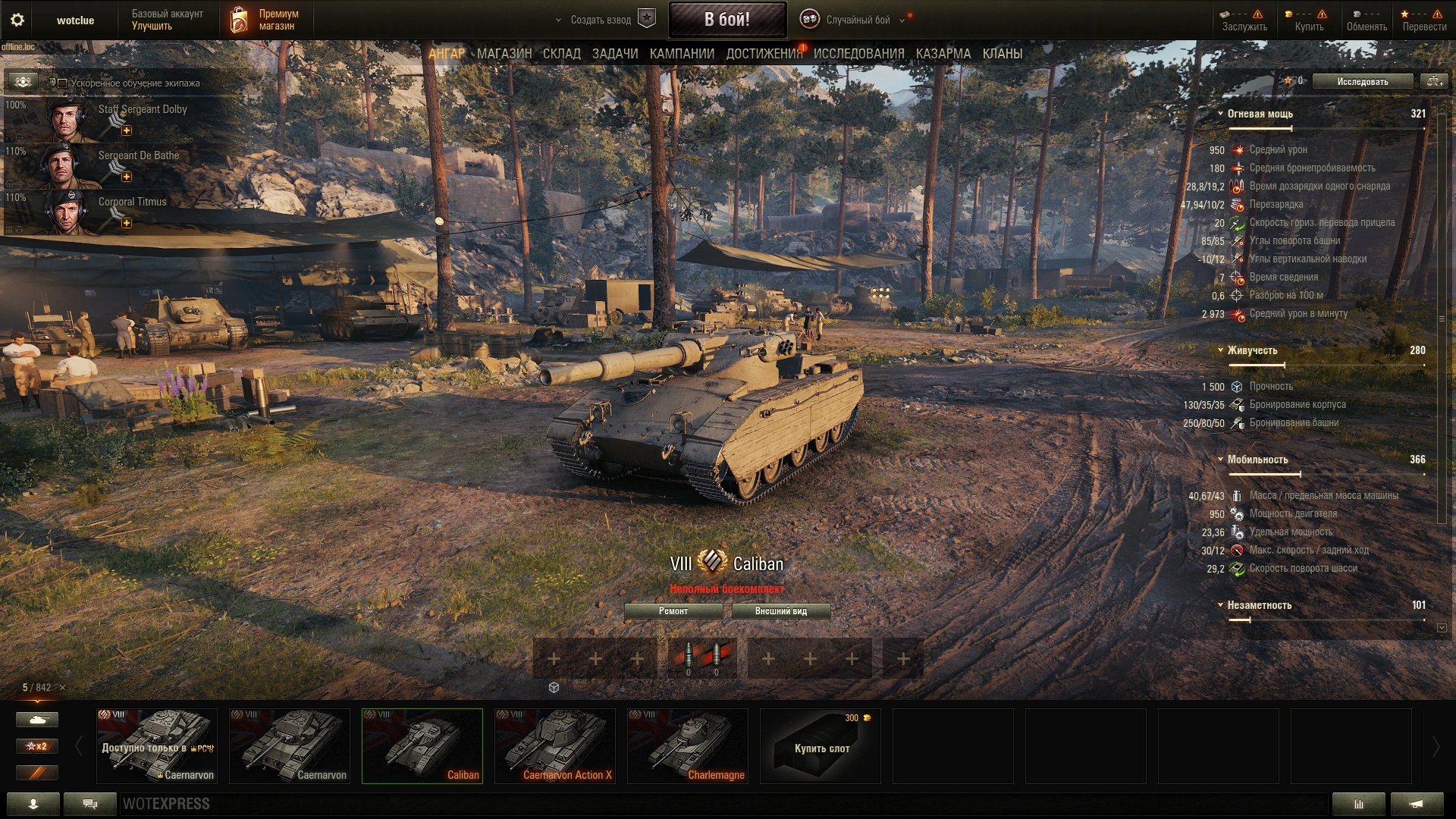 Technical characteristics of the Caliban tank
Caliban is the first tank of its kind, it is fast enough, armored and has huge potential among 10 levels, although it is level 8

AP Shell Average Damage per Minute: 2,034
Initial flight speed of the HE shell: 354
Initial flight speed of an AP shell: 500
Average Damage per Minute High Explosive Shell: 2,973
Dispersion at 100 m: 0.6
Aim Time: 7
Elevation angles: -10/12
Turret rotation angles: 85/85
Time to reload one projectile: 28.8 / 19.2
Horizontal speed scope translation: 20
Reload: 47.94 / 10/2 (Total magazine, between shells, number of shells in the magazine)
Average penetration of an AP shell: 292
Average penetration by a HE shell: 180
Average damage of an AP (alternative) projectile: 650
Average damage of a HE (basic) shell: 950
How do I get the Caliban tank?
The developers have not yet announced how to get the Caliban tank, but we can assume that the Caliban tank can either be bought or received as a reward for completing something. Since the front line will be released soon, it would be logical to assume that the Caliban tank can be obtained for the Front Line, but the actions of the developers are not always subject to logic. We can only wait!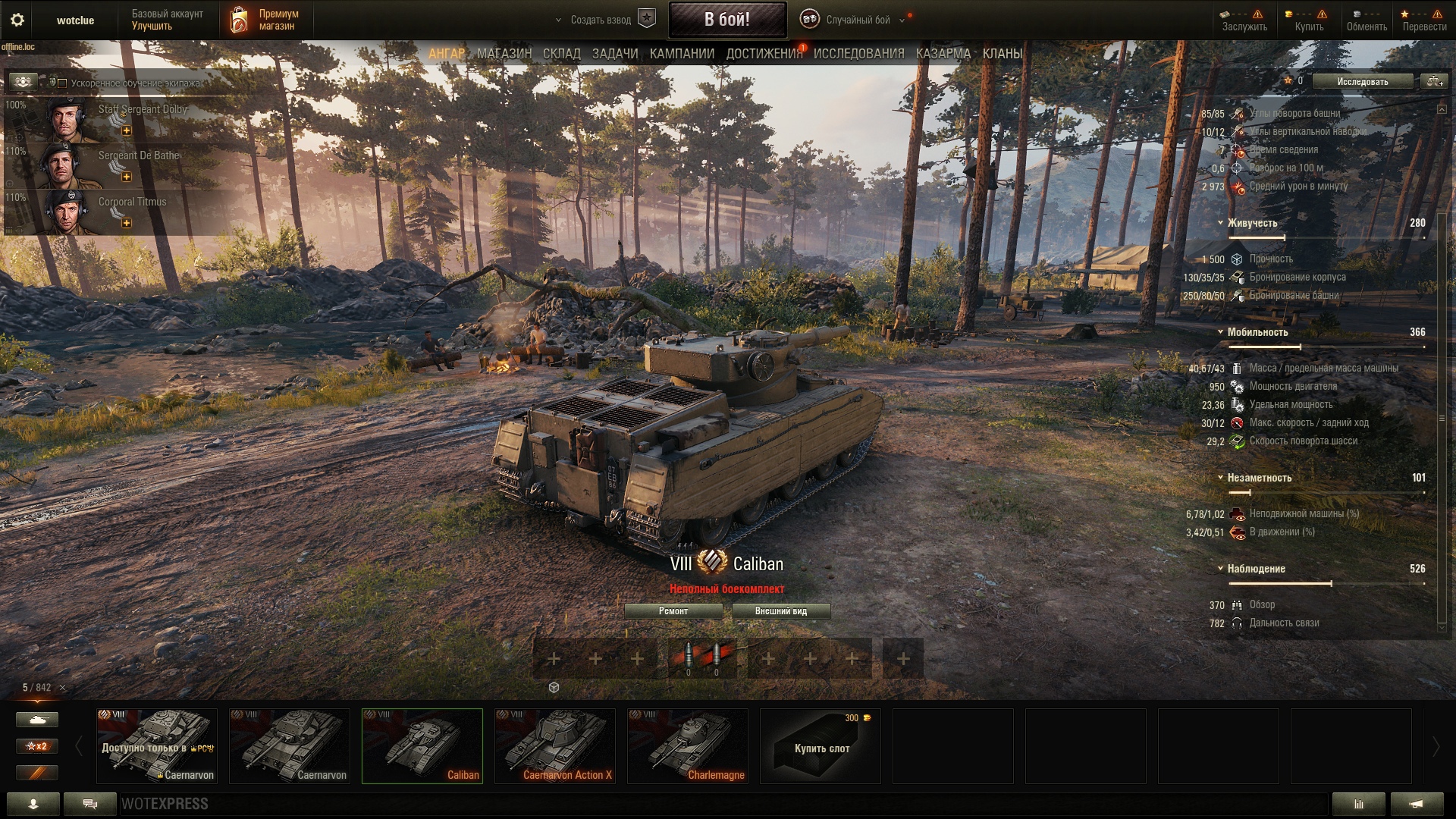 Service on the site
If the tank can be obtained for any game event, our team is ready to help you. If you want to get a Caliban tank, write to us as soon as possible! - push
Pros and cons of the Caliban tank
Pros of the Caliban tank are:
drum recharging mechanism;
one-time damage;
high armor penetration with a special projectile.
Cons of the Caliban tank:

chassis traverse speed;
implement lift angle;
mediocre booking;
incomplete rotation tower;
long mixing;
bad precision;
view radius.
Outcomes
The tank came out very versatile and not everyone will be able to reveal its potential. However, if you get used to it, play only at close range, playing the role of a breakthrough tank, in which case the possibility of hitting will become much greater. Alpha in such a drum for 2 shells is perfect for finishing off opponents, you can safely follow in exchange or simply remove a significant part of HP to any enemy. Few are willing to shoot with him head-on.
And that's all! Share with your friends if you liked this article!
Comments for the site Cackle